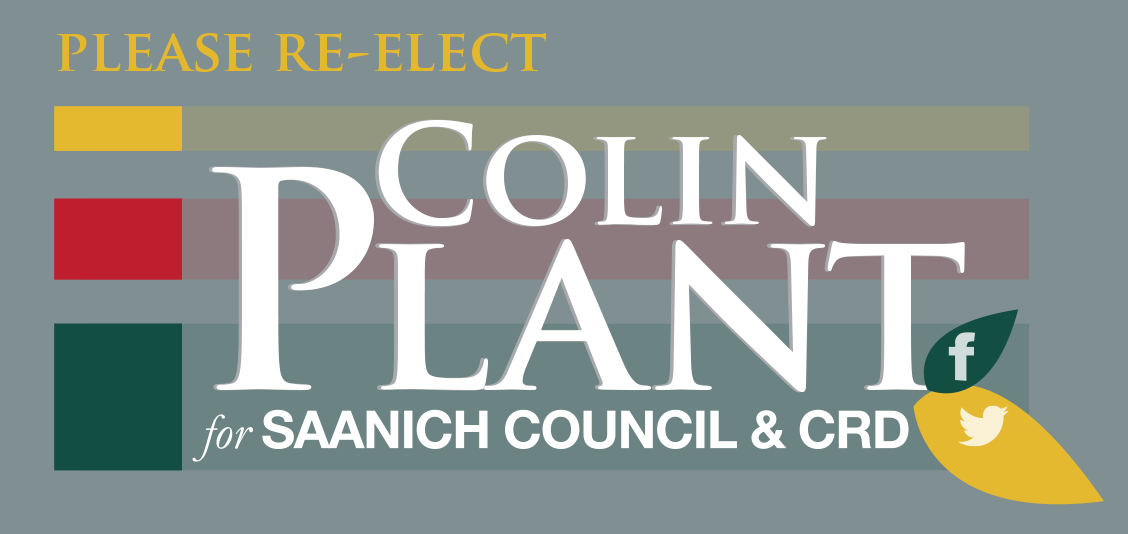 Let's work together and create
"A Saanich for Everyone!"
Saanich has been my home for more than 33 years.
If re-elected, I commit to continuing to work hard with you, for you, and with all Saanich Council colleagues to help create the best possible future for our community.
I believe that in order to be a successful Councillor it is important to listen first, then speak.
First of all…
Thank You Saanich
Thank you for giving me the honour of serving you these past eight years as a Councillor and as a CRD Director. I never forget that it is my role to serve the community.
I am proud of the work we have achieved as a Council the past four years. Despite the challenges of COVID, we have delivered on the issues that are important to Saanich.
As a Councillor I have had the opportunity to work with the community, my council colleagues and staff to develop strategies to create a bright and sustainable future for Saanich.
As you read this website, you will see I have been very active. But I have always made the time to meet and talk with residents to discuss issues, explain my council decisions and look for solutions together.
This past term Council has worked on numerous local issues. I have always made the effort to work with all my Council colleagues – remaining respectful and open and always working towards solutions. I understand that I am part of a team of citizens that were elected to work effectively together for the betterment of Saanich.
During the past four years, I have also served as the Capital Regional District Board Chair. This has given me the opportunity to learn more about the region while always ensuring that the Saanich perspective is considered, heard and respected.
I was elected to serve you. I have never forgotten that.
You can always contact me to talk to me about what is important to you.
When you call my number, it will be me saying, "Hello this is Colin, how can I help?"
"It has been my great pleasure to work alongside Colin Plant as an elected official for the past eight years. Colin has done a marvelous job as Chair of the Capital Regional District Board for the last four years. He is an excellent communicator, cares deeply for people and community, and demonstrates an admirable work ethic. I endorse Colin as a candidate for Saanich Council and CRD Director without hesitation."

Mayor Geoff Orr
District of North Saanich
"I am a past President of a large labour organization where I had many professional interactions with Mr. Plant. I am also a Saanich resident. One of the most impressive traits that Colin demonstrated to me was his ability to make time for people, to listen and actually hear their views on local matters. Colin is dedicated to improve overall conditions for working people and continually strives to enhance the District of Saanich. Colin is open minded, logical and reasonable but also forward thinking. I fully support and endorse Colin in this upcoming election and would be proud for him to continue to be our collective voices not only on Saanich council but on the CRD board as well."
I support and endorse Councillor Colin Plant in the 2022 Municipal Election. In spite of Covid restrictions, His list of accomplishments is remarkable as is his vision for the next four years.
Eric Dahli
Former Chair, Cadboro Bay Residents' Association Chair &
Co-Founder , Cadboro Bay Dead Boats Society.
"Colin has been a hardworking, enthusiastic and open-minded leader as Chair of our 24-member Capital Regional District Board for the past 4 years."
Cliff McNeil-Smith
Sidney Mayor and CRD Director
"Colin Plant has been a good CRD chair. We have worked well together on a number of tough issues and I am glad to see that he is again running to represent Saanich."
Barbara Desjardins, (She/Her)
Mayor, Township of Esquimalt
"I've worked closely with Colin as a member of the CRD board, which he has chaired for the past four years. Colin has many great qualities that make him an excellent CRD Director, Saanich councillor and community leader. He is fair, thoughtful, balanced, and is always working to achieve the greatest good for the greatest number of people. If I lived in Saanich I'd be putting an X beside his name!"
Lisa Helps
City of Victoria Mayor – Lekwungen Territory
"I met Colin almost ten years ago at our monthly meetings of Saanich Community Association Network (SCAN) when he represented the Royal Oak Community Association. Colin was always the most "tech proficient" at our meetings and added a lot to our discussions. It was no surprise when in 2014 when Colin decided to run for Saanich Council. He won handily after walking many miles and knocking on many doors. He was also appointed to the Capital Region District Board. Colin successfully ran again in 2018. He was once more appointed to the CRD board and subsequently was selected as the CRD Chair. Even with all of this success, Colin retained his friendly contacts with members of the community. We are all entertained by his students at Claremont Senior High School and their fine theatre productions. Colin has represented us well at both Saanich Council and the CRD. He had a great motto - "First I listen, then I think, then I Speak". How much more can we expect of our representatives ? Colin has my unconditional support in his 2022 candidacy for Saanich Council.
John Schmuck
Past President, Quadra Cedar Hill Community Association
Former Chair, Saanich Community Association Network 2014-2016
Chair, Saanich Governance Review Citizens Advisory Committee 2016-17
"I am pleased to let you know that based on your application and previous history, the Victoria Labour Council has decided to endorse your candidacy in the upcoming election. We will be making formal announcements no sooner than August and distributing information to our affiliates in time for the election. In the meantime you can begin to prepare your campaign materials with this endorsement. Thanks and good luck"
Ted Godwin, Coordinator
Victoria Labour Council 2022 Municipal Election Committee
"It is with confidence that I would, once again, vote for Colin Plant to serve on the Saanich Council. He has proved himself, over and over, as a hard working, positive and enthusiastic council member. He is often present at special events, he brings issues that he feels are important to the notice of the public, and he cares about our beautiful Saanich environment. He also is an all round nice guy and a supporter of the Arts. For me, that is another PLUS!!!"
Sylvia Hosie 
Arts Advocate and Teacher​​
"What I've appreciated about Colin while working closely with him at the CRD in our respective Chair and Co-Chair roles is that he is an open and inclusive leader who rightly places a lot of importance on good process, listening to and learning from others, and communicating his values and decisions clearly. I enourage Saanich residents to return Colin to Saanich and the CRD so he can continue to serve our communities by voting for him on October 15.
Rebecca Mersereau
Vice-Chair CRD Board and Saanich Councillor​​